Brian Paddick tours Tottenham six months on from riots
Posted by Paddick For Mayor on 6 Feb 2020 in
Crime
Brian Paddick, Liberal Democrat candidate for Mayor and former Deputy Assistant Police Commissioner, has marked six months since the London riots by visiting communities affected, with his London Lib Dem colleagues.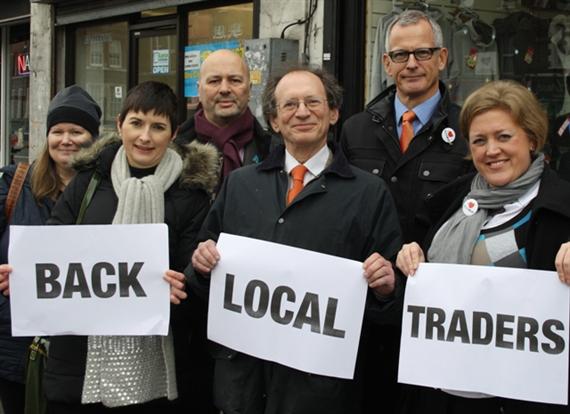 Brian pledged that, if elected Mayor in May he will:
End targeting of Black & Asian youth through Stop and Search
Win back public trust in police by giving local communities real say in setting neighbourhood policing priorities
Kickstart local economy by speeding up compensation to businesses effected by riots
Brian, his candidate for Deputy Mayor, London Assembly Member Caroline Pidgeon, and GLA consitituency candidate for Enfield and Haringey, Dawn Barnes were in Tottenham this morning. They visited the Speaking Broadwater Farm Estate to meet residents at the community centre and Tottenham High Street to visit shopkeepers still waiting for compensation following the looting.
Brian said: "Public trust in the police is being eroded because there are not enough local resources devoted to tackling London's gang culture and responding to crimes such as burglaries, muggings and hard drugs dealing.
"Instead huge amounts of police resources are currently being wasted on ineffectual tactics like Stop & Search that unfairly target individuals through racial profiling. I want to be Mayor to re-engage the communities of London with the police. If this is not done, I fear the Met will have to use force more often to keep London safe.
"We want peace on the streets not more police."
Since January the London Mayor has changed dramatically to also include the role of Police & Crime Commissioner, with powers to set priorities for the Metropolitan Police's 31,000 strong force. With his 30 years experience as a police officer Paddick's qualifications for the new role stand in stark contrast to Johnson and Livingstone.
Commenting on May's election for Mayor, Brian added: "London doesn't need another four years of Johnson and Livingstone's political circus. We need a Mayor with the experience and commitment to win back public trust in the police.
"Boris Johnson was absent without leave for days during the riots and when he did finally come back to London all he did was wave a broom in the air, while Ken Livingstone maybe a 'cheeky chappy' but he is out of gas, and has no real ideas for tackling the deep-seated problems that caused the riots in the first place.
"As Mayor I will make sure that police are on the ground responding to Londoners priorities by protecting people, homes and shops not spending precious time and money on stop and search tactics that just don't work and alienate whole communities. The police should be tackling crime, not wasting time."