Brian and Munira go on patrol with Richmond Street Pastors
Posted by Paddick For Mayor on 25 Jan 2020 in
Crime
London Liberal Democrat Mayoral Candidate, Brian Paddick, and South West London GLA candidate Munira Wilson, joined the Richmond Street Pastor patrol of Richmond town centre on Friday night.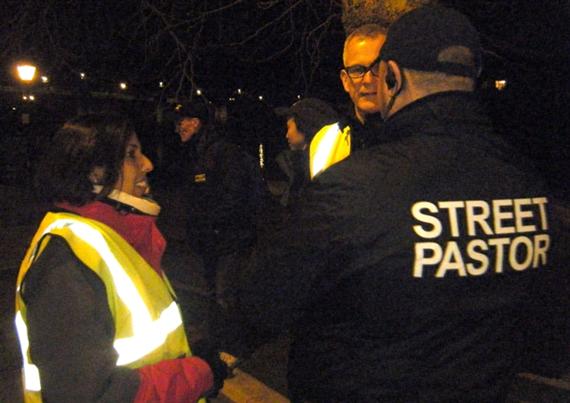 The Richmond Street Pastors team was set up six months ago by volunteers from local churches who give up time and sleep on a Friday night to listen to, care for and help all those out and about late on the streets of Richmond.  They have built up strong relationships with bouncers at Richmond bars and clubs, as well as the local Police who have just given them a grant of £9,000 because of their valuable work.
Lollipops are their weapons in diffusing potential fights and they hand out flip flops to women who have come out of the bars and clubs having had a few too many and taken off their shoes.  They remove bottles and glasses from the streets that could become weapons and befriend those who are lonely or homeless.
Munira Wilson, London Assembly candidate  "The Richmond Street Pastors are doing a fantastic job and it was great to see how they have won the trust of local party-goers, residents, Police and door staff alike.  It was a privilege to meet these volunteers who sacrifice their time and go into difficult situations to keep Richmond town centre peaceful for all our benefit."
Former senior Metropolitan police officer and Lib Dem candidate for Mayor of London, Brian Paddick said,
"The Street Pastor movement is inspiring and I'd like to see even more such community-based initiatives to help make London's streets safer.  In the face of recent local neighbourhood policing cuts with potentially more to come post Olympics, the Street Pastors are fulfilling a vital role in Richmond and other town centres across the capital."